Minerals have been valued throughout human history. Their strength and appearance were esteemed throughout time, but how do these precious rocks go from a diamond in the rough to the shiny workable material that consumers see? Processes for extracting ore with monetary value have been found in human history as far back as the year 973. Mineral Processing is defined as: "crushing and separating ore into valuable substances or waste by any of a variety of techniques".
The process goal is to obtain the purest form of the targeted material as possible to ensure premium buyers are willing to pay for the purest materials. The process to get to this pure state may use different types of equipment depending on the material but follows the same basic process as we discuss below.
Typical Mineral Process Flow: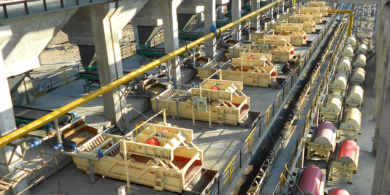 After a process of grinding and screening to get the minerals down to a workable size, the typical mineral process flow begins with washing or as many refer to it, "Enrichment".
The purpose of enrichment is to remove impurities from the desired mineral. This can be done in a multitude of ways which are often decided on due to the chemical makeup of the mineral. For example, saleable products cannot be "washed" with water because they will dissolve. They must be cleaned with sand or other scrubbing agents.
The equipment often used for this phase are:
Wet screens
Attrition mills
Gravity belts
Scrubbers
The second phase of mineral processing is "Separation".
Separation is quite possibly the most important phase in this process to obtain purity as it will extract the materials with no monetary value from the targeted materials. There are several different ways to remove these materials:
Gravimetric (using gravity)
Flotation (if other materials are more buoyant than the desired material)
Magnetic
Leaching (if impurities are insoluble)
Once these materials are recovered there are a few ways that their value can be increased even more through dewatering, drying, calcining, and more.
There are many different ways to complete this process due to the wide variety of minerals being processed, advancements in equipment, and other requirements. General Kinematics has been working with those on the cutting edge of mineral processing for almost 60 years. We know that every process is different and pride ourselves on being leaders of innovative vibratory equipment.
Do you have a unique mineral processing challenge? Give GK a call and discover why we are known for engineering unique vibratory solutions that work!